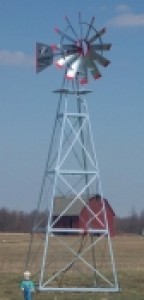 Windmill (Aeration) 4-Leg
---
Product Description
More Cubic Foot Per Minute Output * 1 & 3/4 " Stroke.

Heavy Duty Galvanized Construction.

American Eagle weight:23'( 315 # )

Some Parts Powder Coated for Added Protection and Beauty.

6' Spoke Welded Wheel * Low Wind Start Up.

4 Leg Sturdy Tower with Hurricane Design Angled Anchor Rods.

23' is 6' 8" Base ( Leg to Leg ).

Bellow Type Air Compressor * No Back Pressure * No Freeze.

Long Life Expectancy of Goodyear Bellow.

Self Governing for High Gusting Winds.

Heavy Duty Long Life High Speed Grease able Bearings.

All Bearings are Inside the Compressor NOT Exposed to the Weather.

Many Self Lubricating UHMW UV & Wear Resistant Components.

5 Year Warranted Custom Made Joe Mescan Poly UV Air Hose.

Self Sinking Hose also Available with Same Warranty.

Assembly & Installation DVD to Insure E Z & Proper Installation.

Ideal Diffuser Depth: 1 Diffusers @ 12' or Less or 2 Diffusers @ 6' or 4 Diffusers @ 3'

The tower is about 16 gauge, the wheel hub is 1/4" powder coated steel. The wheel is designed so when the winds exceed 25 to 27 mph it will turn the wheel out of the direction of the wind and slow the wheel down. Be sure the customer anchors properly so the rods do not pull out of the ground. We recommend they drill post holes and pour in concrete. Ours have withstood 84 mph wind gust.